Band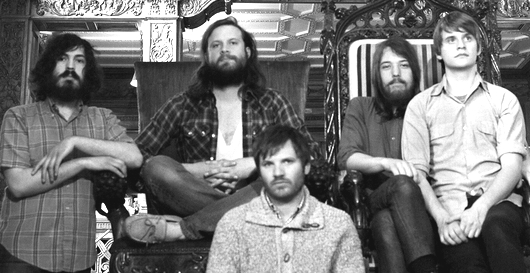 home :: Seattle, WA, USA
official site ::
Sub Pop Records/Fleet Foxes
Sub Pop Recordsの超新星バンド、Fleet Foxesは、何度かのメンバーチェンジを経て、2009年1月現在はRobin Pecknold、Skye Skjelset、Christian Wargo、Casey Wescott、Josh Tillmanの5人で編成。フォーキーで豊かなポップ・サウンドが魅力で、シンガーであるロビンの音楽の原風景は両親の影響で聴いたという60年代の音楽 - The Beach Boys, Simon & Garfunkel, The Zombies, Joni Mitchell, Marvin Gaye, Bach, Crosby Stills & Nash, Bob Dylan, Buffalo Springfield - だったそう。ロビンが14才から作曲を始め、時は流れて2006年。ロビンは少年時代からの親友のスカイ、そして何人かの友人とともに初めてFleet Foxesとして曲作りをはじめる。現在の固定メンバーのケージィやクリス、ジョシュはSeldom、Crystal Skulls、Pedro The Lionなどシアトルのバンドに在籍しており、彼らの個性的な音楽経験がFleet Foxesの音楽性に深く関わっている。2008年のSXSW出演後にLast.fmで一気に注目された後、徐々に音楽メディアから個人のブログまでに広く認知され、いずれも高い評価をうけている。2008年後半には「Q Awards」や「Uncut Music Awards」など雑誌メディア主催の賞にも多く取り上げられ、今年の躍進がますます期待される。

Name:Robin Pecknold
Instruments:vocals,guitar

Name:Skye Skjelset
Instruments:guitar

Name:Christian Wargo
Instruments:bass, Vocals

Name:Casey Wescott
Instruments:keyboards, vocals

Name:Josh Tillman
Instruments:Percussions, vocals
Albums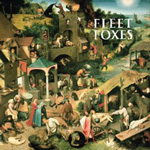 Fleet Foxes
release : June, 2008
label : Sub Pop Records
01. Sun It Rises 02. White Winter Hymnal 03. Ragged Wood 04. Tiger Mountain Peasant Song 05. Quiet Houses 06. He Doesn't Know Why 07. Heard Them Stirring 08. Your Protector 09. Meadowlarks 10. Blue Ridge Mountains 11. Oliver James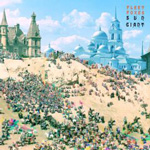 Sun Giant [EP]
release : April, 2008
label : Sub Pop Records
01. Sun Giant 02. Drops in the River 03. English House 04. Mykonos 05. Innocent Son
Pictures
Extras | Music Videos via Pitchfork.tv
2008年、Fleet Foxesの人気の火付け役となったメディアのひとつ、Pitchforkから。
Fleet Foxes: Mykonos
**Pitchfork.tv Video Premiere** // This animated, origami-style video imagines a fluid universe filled with triangles, castles and barbershop mustaches. It's a little playful...and a little creepy. Sean Pecknold, Robin Pecknold's brother directs.
Hi-bandwidth >>
http://pitchfork.com/tv/#/musicvideo/115-fleet-foxes-mykonos-sub-pop
Fleet Foxes: White Winter Hymnal
** Pitchfork.tv Video Premiere ** // The large sound of Fleet Foxes' self-described "baroque harmonic pop" comes to life through the amazing talents of director Sean Pecknold (lead vocalist Robin's brother), who crafts a claymation paean to the life-cycle of a forest inhabited by gnome-like caricatures of the band.(Pitchfork)
Hi-bandwidth >>
http://pitchfork.com/tv/#/musicvideo/468-fleet-foxes-white-winter-hymnal-sub-pop
Fleet Foxes: He Doesn't Know Why
Fleet Foxes get overrun by an army of goats in this clip for the second single from their self-titled debut LP. Directed by Sean Pecknold.(Pitchfork)
Hi-bandwidth >>
http://pitchfork.com/tv/#/musicvideo/369-fleet-foxes-he-doesnt-know-why-sub-pop
Fleet Foxes: Day Tripping
SXSW was pretty goddamn fun again this year, especially because it was the first time we had video cameras. On Friday, we asked Seattle-based psych-folks Fleet Foxes to hang out, so they invited us to tag along in their tour van between gigs, taco runs, bitching about cops, and hitting up local bridges to test out the acoustics.(Pitchfork)
Hi-bandwidth >>
http://pitchfork.com/tv/#/episode/50-fleet-foxes/1